Basic H
2®

 Organic Super Cleaning Concentrate (473 ml)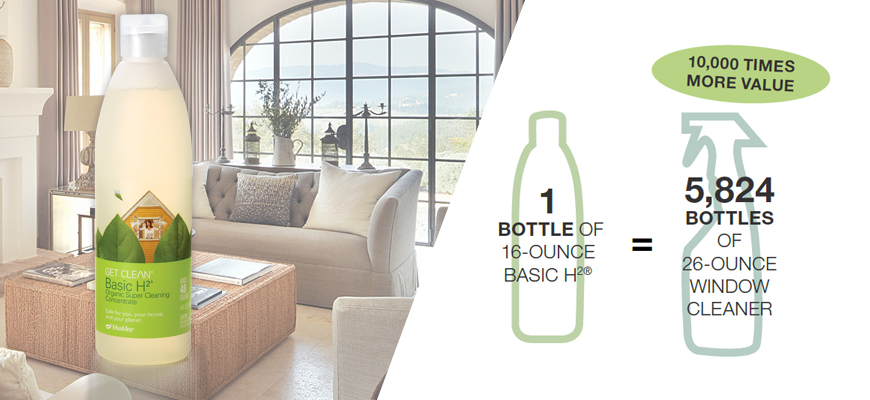 Superhero in a Bottle
Basic H2® Organic Super Cleaning Concentrate has thousands uses in one bottle that makes cleaning easier yet effective. This powerful multi-purpose cleaner will leave every surface of your home shining without leaving any nasty and harmful residue behind.
Benefits
Natural ingredients: Naturally sourced from corn and coconut-based surfactant.
Super concentrated: Less is more- one bottle can make up to 182L of super powerful cleaner.
Multi-purpose and handy: One bottle can replace other products such as glass cleaners, degreasers, bathroom cleaners, bleachers and can be used on almost every surface of your home, indoor and outdoor.
Powerful: Cleans even the most stubborn grease and dirt without extra effort.
Convenience: No-rinse, no-residue and leaving no dirty marks!
USAGE
WATER
Basic H2

™

 Organic Super Cleaning Concentrate

All Purpose Cleaning

Kitchen, appliances, furniture, walls, woodworks
500ml in Get Clean® spray bottle
1/4 teaspoon
1L
1/2 teaspoon
3.7L
2 teaspoons
Pots and pans
3.7L (warm)
1/2 teaspoon
Windows and mirrors
500ml
2 drops
1L
4 drops
3.7L
1/8 teaspoon
Floors (no rinsing needed)
3.7L
1 tablespoon

Degreasing

Ovens, microwave ovens and stove pans
500ml in Get Clean® spray bottle
1 1/2 teaspoon
1L
1 teaspoon
3.7L
1/4 cup
Pots and pans
3.7L
1/4 cup

Bathroom

Toilets
1/4 teaspoon
Showers, bathtubs, bathroom fixtures and walls
500ml
1/4 teaspoon
1L
1/2 teaspoon
3.7L
2 teaspoons