Cinch
®

 Mixed Soy Protein Chocolate Shake (765 gram / 15 servings)
Suggested use:
Put 2 scoops of this powder in 1 cup of nonfat milk and mix well.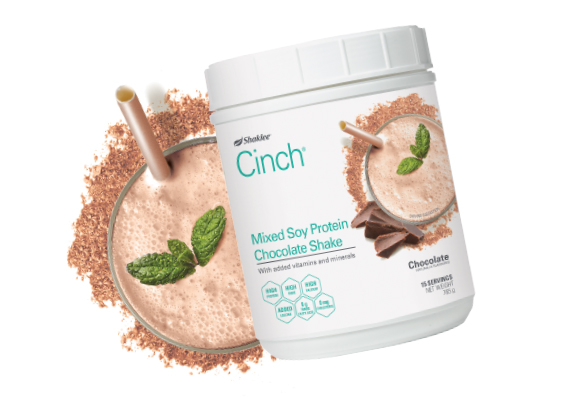 SHAPE UP
TAKE YOUR SHAPE IN A WHOLE NEW DIRECTION.
Eat well, Shake well. Guess what, one of the top ten resolutions is to shed some extra weight and be able to keep it off. If you want to manage your weight effectively, look no more. Cinch® Mixed Soy Protein Shake is a delicious, quick and nutritious drink for you. It provides the benefits of a meal, but yet tastes like dessert.*
DID YOU KNOW?
Leucine is an essential amino acid, responsible for muscle growth and maintenance. As our bodies do not produce leucine, it must be obtained from dietary sources. Research has shown that leucine is beneficial in:
Promoting muscle production.

1

Supporting lean muscle growth.

1

Supporting muscle recovery.

1

Reducing post exercise muscle fatigue.

1
Leucine is sought after by individuals who are:
MANAGING BODY WEIGHT
MAINTAINING MUSCLE MASS
ON A FITNESS REGIME
LOOKING TO CONSUME QUICK YET NUTRITIOUS MEALS POST WORKOUT
These products are not intended to diagnose, treat, cure, or prevent any disease.
Nutritional Facts Vanilla Shake
Ingredients
Per Serving
Per 100g
Energy
180 Kcal
375 kcal
Carbohydrate
23.0 g
47.9 g
Protein
16.0 g
33.3 g
  Soy Protein
16.0 g
33.3 g
Total Fat
3.0 g
6.3 g
  Monounsaturated Fatty Acid
1.5 g
3.1 g
  Polyunsaturated Fatty Acid
0.5 g
1.0 g
  Saturated Fatty Acid
0.5 g
1.0 g
  Trans Fatty Acid
0 g
0 g
Cholesterol
0 mg
0 mg
Dietary Fibre
6.0 g
12.5 g
Sodium
420.0 mg
875.0 mg
Leucine
2.5 g
5.2 g
Inulin
50.0 mg
104.2 mg
Acacia Gum
6.8 g
14.2 g
Guar Gum
200.0 mg
416.7 mg
Vitamin A
150.0 mcg
312.5 mcg
Vitamin C
21.0 mg
43.8 mg
Calcium
350.0 mg
729.2 mg
Iron
4.5 mg
9.4 mg
Vitamin D

3

3.5 mcg
7.3 mcg
Vitamin E
7.0 mg
14.7 mg
Thiamin
525.0 mcg
1093.8 mcg
Riboflavin
595.0 mcg
1239.6 mcg
Niacin
7.0 mg
14.6 mg
Vitamin B

6

700.0 mcg
1458.3 mcg
Folate
140.0 mcg
291.7 mcg
Vitamin B

12

2.1 mcg
4.4 mcg
Pantothenic Acid
3.5 mg
7.3 mg
Phosphorus
350.0 mg
729.2 mg
Magnesium
140.0 mg
291.7 mg
Zinc
5.3 mg
11.0 mg