Collagen Plus Powder (15 sachets / 15 servings)
Product Code: 11024
Suggested use:
For adults only. Take 1 sachet of 5g powder once per day with a meal by mixing with your favourite food or beverage.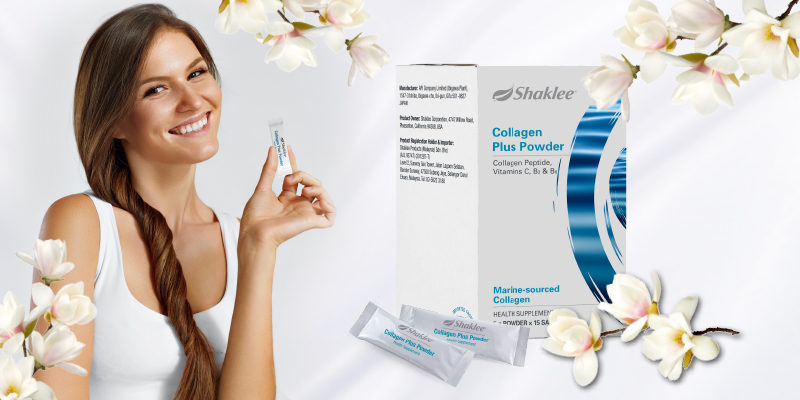 INNER RADIANCE
BE RADIANT – GLOW FROM THE INSIDE OUT.
Regain the youthful vitality of your skin with Shaklee Collagen Plus Powder. A proprietary collagen formula that contains 4,000 mg proprietary Marine Fish (Snapper) Scale Collagen added with Vitamin C and B Vitamins to support firmer skin, so you feel and look younger longer.*
COLLAGEN
COLLAGEN ACTS LIKE A "GLUE" TO HOLD OUR BODY TOGETHER. FOUND IN OUR MUSCLES, BONES, TENDONS, AND MOST ABUNDANTLY, OUR SKIN. KNOWN TO BE BENEFICIAL FOR SKIN HEALTH, COLLAGEN:
Improves skin firmness and elasticity by plumping up fine lines and wrinkles.
Tightens pores and improves skin softness and smoothness.
Moisturizes and nourishes skin from within to be more luminous and radiant.
Improves hair health.
Helps lift saggy skin for firmer and healthier-looking body shape.
DID YOU KNOW?
Stress, sun exposure, and smoking can hasten collagen breakdown, resulting in saggy and wrinkled skin, brittle nails, and dry hair.
---
*These products are not intended to diagnose, treat, cure, or prevent any disease.
This is a supplement product advertisement.
Nutritional Facts
Active Ingredients
Amount Per Sachet
Collagen Peptide
4,000.00 mg
Vitamin C
10.00 mg
Vitamin B

2

0.10 mg
Vitamin B

6

0.10 mg